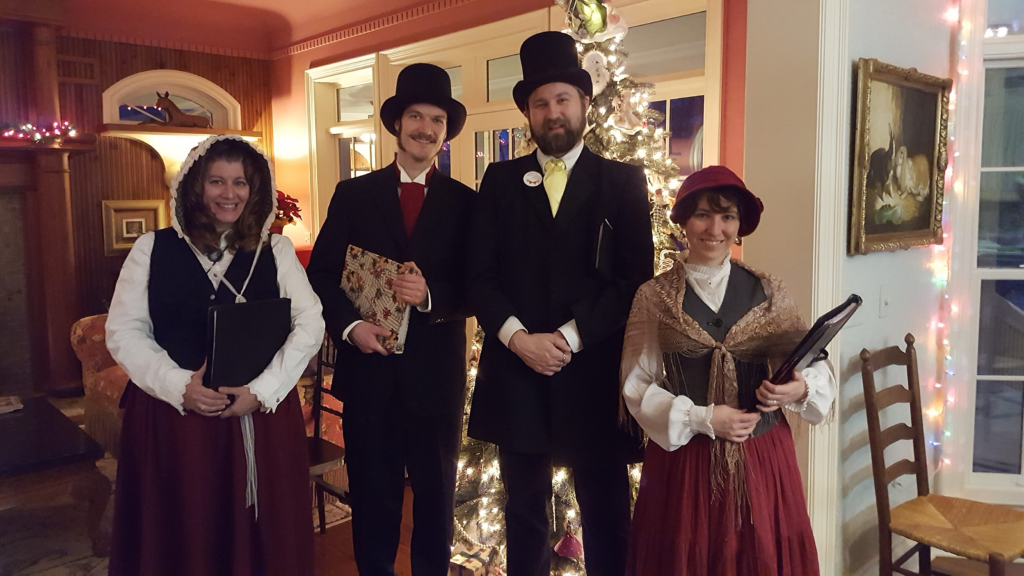 The Arbor Consort is available to perform in costume at festivals, parties, and other events. Our repertoire consists of pre-1620 Renaissance music, and pre-20th century Christmas carols and other holiday songs.  Our Christmas carols are predominantly in English, with a few songs in Latin, German, French, and Hebrew (for Hanukkah).  About half of our Renaissance repertoire is in English with the rest in Italian, French, German, and Spanish.
The Arbor Consort can perform as strolling singers, or perform in place, concert style.  Although we usually sing without banter, we can also discuss the meaning and historical context of the music that we sing to our audience, which can be very interesting indeed. The length of the performance is flexible as long as we have time to break when the event is over 1 hour in length. The Arbor Consort is semi-professional, meaning that, while we take no payment for ourselves individually,  our performance revenues do cover our rehearsal expenses.  We are a registered 501c3 not-for-profit organization.
For all booking inquiries, please contact gigmeister@thearborconsort.org
Please take a look at our photos and videos pages to get an idea of how we look and sound!